22-10-2021
In the framework of the 25th General Council, the Pacte Industrial of the Barcelona Metropolitan Region has organised the "Electromobility: a commitment to innovation, employment and sustainability of the RMB (Barcelona Metropolitan Region)" seminar and has presented a preview of the study commissioned by the association on electromobility, which will be presented soon. The event was held on October 22nd in hybrid format from the Auditorium Headquarters of Barcelona Activa.
The aim of the seminar was to analyse how the RMB is positioned and the key assets that will enable it to create a solid mobility industry around electromobility. Contributions were made by Jaume Collboni, President of the General Council of the Pacte Industrial and First Deputy Mayor for Economy, Work, Competitiveness and Finance of Barcelona City Council; Lourdes de la Sota, Director of Corporate Strategy and Institutional Relations at SEAT; Noemí Moya, Head of Public Policy Spain and France de Voi Technology; Mireia Arroyo, Institutional Affairs Manager & Government Relations of Gestamp, and moderated by Juan José Berbel, Metyis partner.
Collboni referred to the Sustainable Mobility Industry Forum, an initiative of the Pacte Industrial, as a "meeting place between institutions and public and private agents, to raise awareness of the goal and the necessary actions to transform the different sectors involved in an ecosystem related to sustainable mobility capable of facing current and future challenges and contributing to the economic recovery of the Barcelona Metropolitan Region".
Additionally, the Managing Director of the Pacte Industrial, Carles Rivera, pointed out the importance of "promoting the transformation of the mobility industry by exploring the possibilities of public-private collaboration throughout the value chain". He also presented the organisation's Activity Report 2020 and spoke about some of the upcoming lines of work.
The Pacte Industrial continues to grow
During the meeting, which was attended by representatives of the councils and the organisations that make up the association, the Castelldefels and Martorell City Councils were also approved as partners of the Pacte Industrial. With these additions, the Pacte Industrial continues to grow with the incorporation of new organisations that work to boost the competitiveness of the industry, encourage job creation and improve social cohesion and sustainability.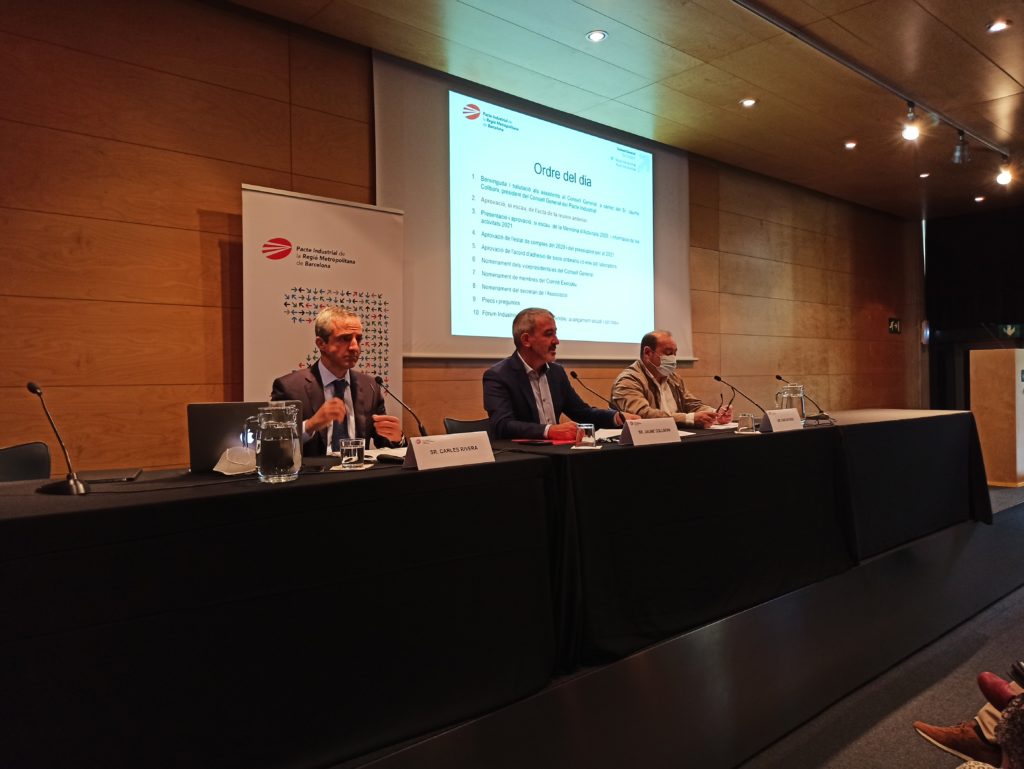 The General Council also approved the appointment of the vice-presidencies. In view of the annual rotation provided for in the Corporate Bylaws, M. Rosa Fiol, of AEBALL and representative of Foment del Treball, has taken over from Sergi Fuster, of PIMEC, as Vice President on behalf of business organisations. Aurora Huerga, of CCOO de Catalunya, has taken over from Josep Santcristòfol, of the UGT de Catalunya, as vice-president representing the trade unions. Eva Menor continues as 3rd vice-president, representing the city councils and other local administrations. She is the president of the Economic Development, Tourism and Trade Area of the Barcelona Provincial Council.
Tags: Electromobility, General Council, Mobility, Sustainability, Sustainable Mobility Industry Forum